The Brig Bar
Red Road Gallery > Red Road Underground > The Brig Bar
Encased in a cube of concrete in the plaza near Petershill Court, the dark interior of The Brig bar was decorated around a nautical theme; compass tables, paintings of ships, stained wood, portholes… With no windows and only one door in and out, the establishment really does resemble the on-board prisons of sailing ships. From the 1960s to the late 1990s The Brig was Red Road's pub.

Brig Bar Gallery
This was the hub for the local football and darts teams, where boys from the scheme had their first initiation into the adult world and student tenants sought out vital post-lecture refreshment. It was also handy for husbands and boyfriends to sneak in for a quick half while their women played the Mecca Bingo next door. Damaged by fire and sealed off to the public, The Brig has been derelict for over 10 years. Tables and chairs, thick with grime and studded with petrified chewing gum, still stand in their places. A yellowing sign makes dire threats against would be moochers and old photographs, blackened by the fire that broke our after the closure, record good times and wild nights long forgotten. Our work in the Brig captures the faded grandeur of Red Road's watering hole, and a vital means of reconstructing its past.


The Brig Bar Dialectogram

Possibly the most unusual public house in north Glasgow, The Brig bar is drawn from interviews with ex-punters and a very interesting and challenging site visit to the bar as it is now. With no architect's plans surviving, The Brig is reconstructed through photographs, on site sketches and interviews.

Click on the image below to zoom and pan for more detail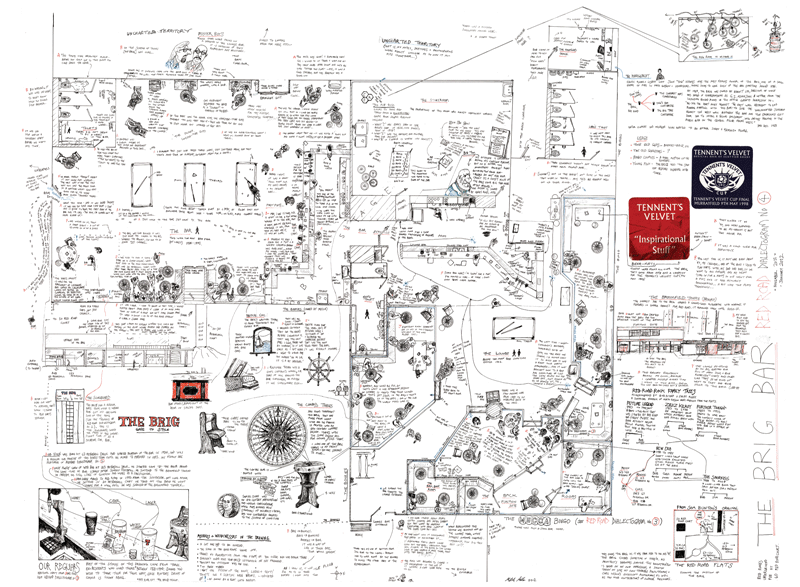 Move your mouse over image
Brig Bar Panoramic View - [ Scroll the image by placing cursor over image ]