The Bingo Hall
Red Road Gallery > Red Road Underground > The Bingo Hall
Were you to walk from 10-30 Petershill Court towards the shops at Red Road you would soon come across a walkway that sinks down into the plaza. Follow it down and you turn into a small precinct with an entrance to a bar, and just next to it, the door to the underground bingo…
The Bingo Gallery
The Mecca Bingo and Social Club constituted a prize bingo, 'national' games and a function suite for weddings, benefits and other 'do's'. Hidden under the concrete, the main auditorium could seat hundreds of players (mostly women), feed them from the buffet, refresh them at the bar and, if they got a line, pay them off with a special Red Road 'cheque' in time for the evening show. As part of a national network of bingos buses brought players from all over Glasgow to enter the hole in the ground. Other more casual patrons valued it as one of the few local facilities where they could meet and chat with their neighbours outside their stair or landing- all hidden beneath the concrete.
Always prone to flooding, a fire in the supermarket above the bingo in the mid-nineties brought a deluge of hosewater that closed it forever. The closure coincided with the beginning of the end for Red Road as a housing scheme. Sealed off for over 15 years, we re-entered the Mecca to find it damp but largely intact, the bright colours still shining through debris and wreckage. Chris Leslie's film and photography captures the eerie atmosphere and faded grandeur of Red Road's own Mecca, while Mitch Miller's painstaking drawings document its better days.

Bingo Dialectogram
Drawn (literally) from interviews with ex-patrons, and based on existing groundplans and a site visit, the Bingo Dialectogram shows elements of the Bingo as it is now, and as it was when Red Road residents ventured down the walkway.

Click on the image below to zoom and pan for more detail: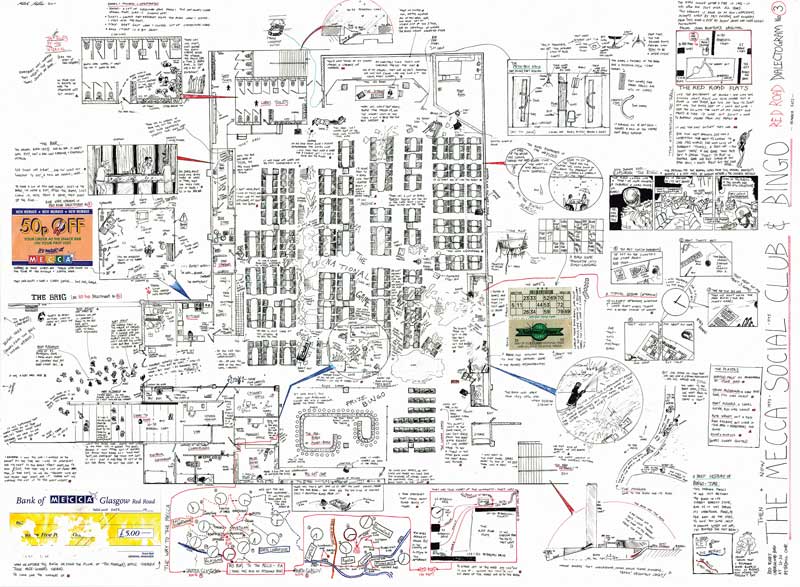 Move your mouse over image
The Bingo Hall Panoramic View

[ Scroll the image by placing cursor over image ]